Sometimes when I think about my life, it seems like the stuff of a great novel. These days I am a retired cop and a writer. But it was a long road that got me here.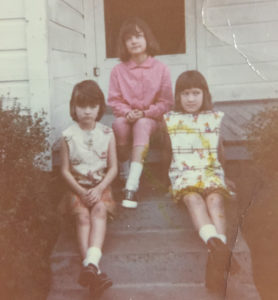 I was born at a Creek Indian clinic bordering the small town of Weleetka, Oklahoma. My grandfather, who farmed green beans, corn, and pecans during the summer, was half American Indian. For supplemental income, he restored homes that were in the worst of condition. Some of my best memories as a child are of following him around in those dusty old houses. When he was young he had worked in the oil wells and lost his right arm just above his elbow. I never noticed that he had but one arm unless he was carrying around his little brown Chihuahua dog, Susie.
My grandmother was a Dutch orphan. In those days, their marriage was uncommon and judged by some, but to me they were a perfect match. My grandpa Aaron adopted his Baptist name of Aaron Allen. I believe it was given to him by his church.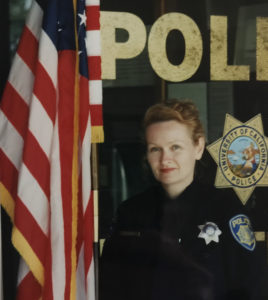 Like many poor migrants during the 1950's, my single mom and her four children traveled to and from the west coast for over a decade with no clear direction. I believe she was looking for a new life, although I'm not sure if she ever found it. And then there was me. I was forced to quit school in the ninth grade; working was necessary to eat. I married too young and had no idea what I wanted or how to get there. It wasn't long before I was a newly divorced woman with two children and no skills or education. The weight of the world was on my shoulders and I felt scared and defeated. I applied for a job opportunity at CETA in lieu of Welfare. This program, the Comprehensive Employment and Training Act, was signed into law by President Nixon. It was designed to provide single parents with limited education or no employment skills the chance for a sustainable career. My introduction into law enforcement was as a CETA employee.
In 1979 Galt Police Department hired me as a file clerk even though I could barely read or write and later promoted me to dispatcher after the CETA funds were no longer available.
At twenty-two years old, I attended school at night and received my GED. In the fall of 1981, I graduated from the Sacramento County Sheriff Department Academy. Soon after graduation, I was sworn in as a California Police Officer at the University of California Davis.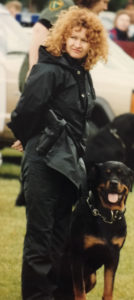 During my twenty-three years of service, I served at the University of California Davis and the University of California Berkeley. I had the privilege of creating the first K-9 program for U.C. Davis and being a cross-trained EOD (explosive ordinance disposal) police dog handler and a Certified P.O.S.T.  (Peace Officer Standards and Training) Police Dog Evaluator for all Law Enforcement Agencies in the State of California.
Being one of the pioneer women in law enforcement assigned to patrol, I was given many of the calls for service pertaining to women. New laws and restraining orders were changing how domestic violence was being enforced. Many victims were embarrassed, had no source of income, or were wary of the new laws. Most were afraid to report the crimes committed against them. Assisting and educating those at risk was a privilege.
On many occasions I was assigned to protect dignitaries and to clear explosive devices before and during events with my EOD dog. Eighteen years later, I was promoted to Sergeant at the University of California Berkeley where I supervised several divisions and created their first E.O.D service dog for that campus.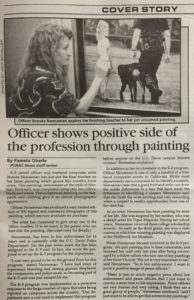 During my career I was a free-hand composite artist for my department and for other agencies in need of these services. This was rewarding yet heart breaking. As victims described the perpetrator and the composite became closer to the suspect's face, the victims would re-live their nightmare. I could see the despair and pain in their eyes the closer we got. Once we were done, they were relieved and felt a little power had been given back to them. Now everyone could see who had hurt them.
I retired in 2005 and began a new chapter in my life – wondering what I was going to do next. One spring day the Trekachaw character popped in my head while I was driving home. I have always wished that I could travel in outer space and use the energy of the sun to exist. I asked myself, why not have the Trekachaw be half alien from another planet and be able to turn into energy, not just consume it. I guess when I think about him, maybe my grandfather had something to do with my dreams. Too me, he was perfect and different from anyone else; he represented a composite of two worlds, and in my eyes, he could do anything. So, it began.
Writing thousands of reports during my career gave me the confidence to write a book. During my colorful career, I had the pleasure of meeting many interesting people with unique personalities. Now that I look back, I was given a gift. Many of my characters in my book are drawn from combinations of those special people with whom I crossed paths.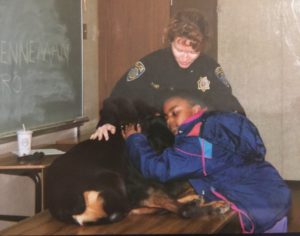 In 2015, my husband and I moved to Oceanside California with two little old dogs. A year later, we adopted a cat from the Oceanside Humane Society. Every year we seem to adopt another cat. We have three, and that's our limit. At least that's what we tell ourselves. Steve, my husband, is a pretty good bowler, and he got us involved with a league. Me on the other hand, not so much. Regardless I'm on the team. For exercise, I have a treadmill in my living room. The only way I'll walk is in front of a good television show.
A lesson I learned young in life was to treat everyone with respect. Each person has their own story. This I tried to remember no matter what the circumstances and I tried to pass this philosophy on to those whom I influenced.
California Law enforcement gave me stability, a family, pride and a purpose. I owe my dreams, achievements, and life experiences to this extraordinary profession. And while set in outer space, my story is, in large part, a reflection of what I learned and dreamed while a member of the force.
And yes, while I finally now consider myself a writer, I still dream of someday venturing out into space.